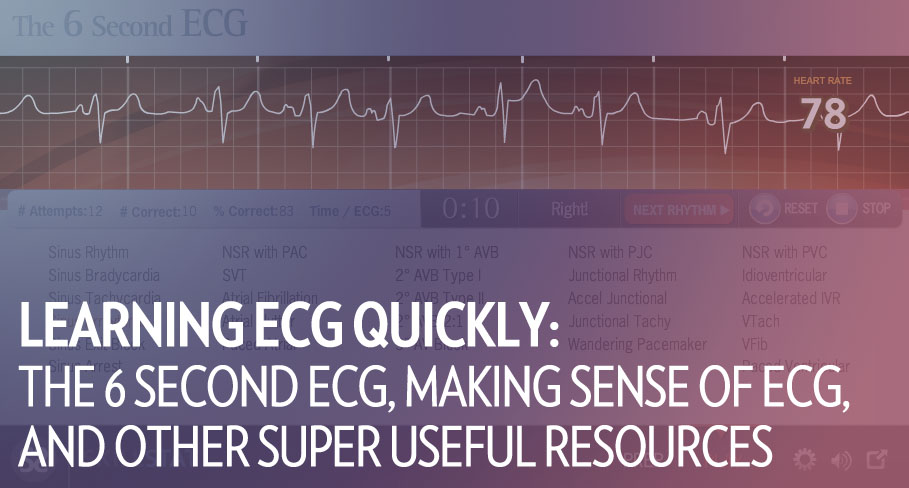 I've found a few good resources that I think will help you learn ECG quickly and confidently.
The Six Second ECG (www.skillstat.com) – This flash program will help you learn and identify ECGs in a… flash! There's a game mode where you need to identify the rhythms within 1 minute. After 30 minutes of playing you will learn to identify sinus arrest from wandering pacemakers from idioventricular rhythms. It's pretty fun and can get competitive if you race your friends!
Making sense of ECG – I read through this book after a resident recommended it to me during my internal medicine rotation. It has basic to advanced interpretations including some physiology and treatment. It's a relatively quick and fast read, high-yield but thorough enough to use as a reference for topics you'd like to go over again.
ECGpedia.org – I like this site because of some pretty good tables that cover things like supraventricular or ventricular rhythms. Sometimes wordy but I keep coming back to it. It has some nice diagrams of the heart too. Another plus are the esoteric and really rare findings that survey ECG books may leave out.
ECG cheat sheet – And of course I give a plug to my very own ECG cheat sheet. Reference in your pocket and learn how to present to an attending!
Good luck!
"but be filled with the Spirit, addressing one another in psalms and hymns and spiritual songs, singing and making melody to the Lord with your heart" (Ephesians 5: 19)