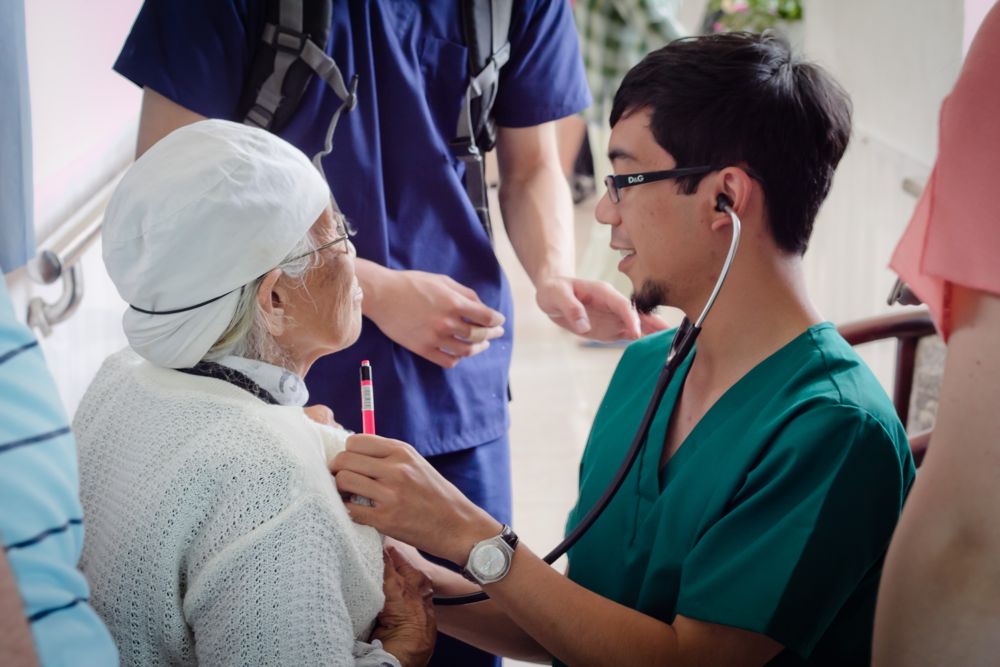 (in rural China after the first year of medical school)
Contents
About
Henry Del Rosario was born in Chicago, Illinois to Filipino immigrants. He double-majored in Molecular & Cellular Biology and English at the University of Illinois, obtained his Doctor of Medicine from Chicago Medical School at Rosalind Franklin University, and trained at the West Suburban Family Medicine Program in the west-side of Chicago. In 2017 he moved to Providence, Rhode Island with his wife and currently works in Massachusetts as an Assistant Professor and academic Family Physician doing inpatient medicine, clinic, and obstetrics. For Henry, there are three desires he wants to fulfill with his short life: to explore, to create, and to serve.
The beauty of family medicine comes from seeing patients from birth to death, in the clinic and in the hospital, and often times an opportunity to care for multiple members of the same family! As of now, Henry has a passion for 1) underserved medicine (especially of minorities, immigrants, poor), 2) inpatient medicine, 3) medical education (of residents and medical students), 4) high-risk obstetrics, and 5) global health. His working career mission statement is: to empower others to serve the underserved.
Moreover, Henry has a passion for art and literature and hopes to integrate the humanities into his medical career. As a doctor you are privy to some of the most intimate, vulnerable, and beautiful aspects of human experience. Entrusted with such a privilege, he is excited to see where life and God will lead him.
Education & Work
Hahnemann Family Health Center and Umass Memorial Medical Center

Assistant Professor at the University of Massachusetts Medical School
Academic faculty attending of the Worcester Family Medicine Residency Program
Primary care for infants, children, and adults
Prenatal, obstetric, labor & delivery care
Inpatient adult hospital medicine
Family Medicine Department Epic Builder

West Suburban Medical Center Family Medicine Program

Training experiences included urban undeserved medicine, inpatient medicine, & high-risk obstetrics
Months done during residency: FMS: 7, MCH: 6, ICU: 4.5

Chicago Medical School at Rosalind Franklin University
University of Illinois at Urbana-Champaign

Bachelor of Science
Double majored in Molecular & Cellular Biology and English
Global Health Experience
Although Henry is driven by international health care disparities, he is interested in global health simply because cultures and languages are fun to explore and learn.
Northern China Family Residency Trip – 2017

3 weeks
Lectured to and precepted Chinese doctors in a family medicine residency program
Provided health care in rural villages, nursing homes, orphanages

Urbana Missions Conference – 2012

Attended a triennial gathering of 16,000+ people concerned for the wellbeing of other nations and peoples
Listened to seminars, international speakers, bible studies, and networked with missionary agencies

Global Healthcare Missions Conference

– 2010-2012

Attended a yearly gathering of 2,000+ health care professionals in Louisville, Kentucky

Participated in plenary sessions, breakout sessions, and small groups that informed, equipped, and networked health care providers

Taizhou, China Hospital Rotations – 2011

4 weeks
Rotated through general surgery, osteopathic surgery, urogenital surgery, and traditional Chinese medicine
Learned about the Chinese health care system

Northern China Family Residency Trip – 2011

2 weeks
Helped a Chinese family residency program train doctors
Provided health care in rural villages, nursing homes, orphanages

Kenya Mission Trip – 2010

6 weeks
Served primary & secondary schools, orphanages, local churches

Artist Statement
I am a person of dual experiences: Asian and American, Artist and Doctor, Sinner and God-saved. My artwork focuses on my questions about identity:
How does being Asian and American affect artistic mediums and tools?
Can art heal? Can medicine have a meaningful aesthetic?
Does prayer, meditation, and mindfulness have a place in medicine and art?
Art deconstructs and constructs what is beautiful. Medicine deconstructs and constructs what is sick. My work explores meditation and prayerfulness as common ground between art and medicine. In particular, I use ink and calligraphy (graphemes) and the words they represent (phonemes) as a starting point to explore how art and medicine react to each other. Historically, calligraphy has been used to record and copy scriptures— intimately tied to Buddhism, Taoism, and Zen. There are increasing studies being done now in medicine about mindfulness and meditation. I have a feeling that the self-examination I do when seeing patients and the need for patients to be self-aware in their own health are related to the self-reflection done in art and calligraphy.
Moreover, self-examination can reveal structural and personal depravities. America's social problems of race, the decolonization of the Philippines, and globalization are themes I investigate in my works.

Hobbies + Interests
Art (calligraphy, photography), guitar, writing, Alfred Hitchcock films, Anime, running, traveling, reading biographies, learning languages
Contact

Links