The nature of residency is looking up the same information again and again until it sticks in your head. Reading ECGs takes practice and one needs to develop a systematic way to read them. As a senior resident now, I find it really fun teaching interns ECGs! So I compiled many of the resources I've read about ECGs into a simple one-page rapid interpretation pdf!
Download the one-page rapid interpretation ECG cheat sheet v5.2 here (last update 5/2018).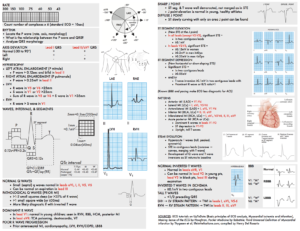 Features/Notes:
It is organized roughly how one would typically read an ECG. EKG cheat sheet pdf hits the major points in the order that you might present to an attending:

Rate
Rhythm
Axis deviation
Hypertrophy (atrial, ventricle)
Intervals (PR, QRS, QT), segments
Myocardial ischemia/infarction

Futura typeface for style and readability and because Wes Anderson is partial to it
Half-fold design to fit a doctor's white coat
Many common things I look up are included (ie. interval lengths, QT lengths)
In particular, I found many people confused about the criteria for diagnosing ischemia and infarction, Q waves, and T wave inversions. So I defined those and gave examples.
Of note, many resources claim different definitions/criteria to diagnose certain parts of the ECG (ie. LVH). I chose what appeared to be the most common and the easiest for myself to remember.
Last updates:
7/3/2015: Added QTc prolongation lengths for males and females, changed some letter casing
9/23/2015: Added the definitions for STEMI and NSTEMI.
7/18/2016: Rearranged sections. Added R wave. Added RBB. Added sources.
5/24/2018: Updated QTc intervals
Sources:
ECG tutorials on UpToDate (Basic principles of ECG analysis, Myocardial ischemia and infarction)
Making Sense of the ECG by Houghton
Pocket Medicine by Sabatine
Third Universal Definition of Myocardial Infarction by Thygesen et al
lifeinthefastlane.com
Old versions:
AWESOME.