How much does a Family Physician work?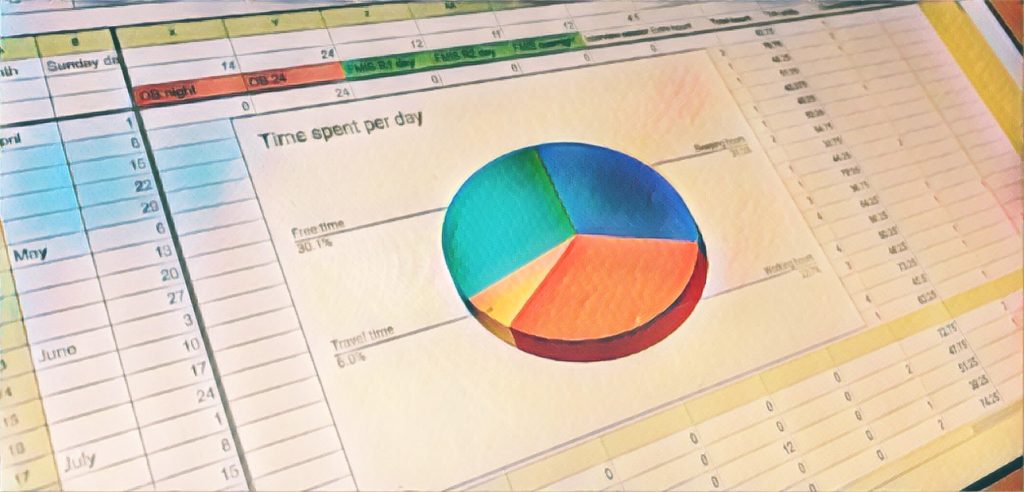 I finished my first year as an attending! I work in an academic and urban setting and do a unique version of full-spectrum family medicine: I see patients of all ages in a clinic, I take care of adults in the inpatient setting as a hospitalist, and I deliver pregnant women as a laborist in addition to post-partum rounding on newborns in the hospital (I am not obliged but often come in to see my personal patients in these hospital settings as well); I work days and nights; moreover, part of my job is to teach medical students and resident family physicians.
Many residents comment, "Henry, you work a lot!" I love what I am doing and simply can't imagine doing anything else; but the question remains, "Do I work more than the average family doctor?"
How many hours do I work?
In order to calculate how many hours I spend working, I needed to estimate how my work days are spent. Some days I do clinic, some days I do OB (obstetrics) and MCH (maternal child health), other days I do FMIS (family medicine inpatient service), and some days I do all three! A quick run-down:
Typical clinic day [9.5-10.5h day]

7:30am – arrive in clinic, work on emails, sign or fill out faxed forms, finish charts, EMR tasks ("paper work")
8:30am – begin morning clinic
12 to 12:30pm – finish clinic, get lunch, watch a lecture, attend a meeting, and/or resume "paper work"
1:30pm – begin afternoon clinic
4:30 – 5pm – finish clinic, resume "paper work"
6pm – head home

Typical MCH (obstetrics + postpartum/newborn care) day (least regularly structured, below is a rough estimate) [10-11h day]

7:30am – arrive in the hospital, receive signout from night attending
8am – start post-partum rounding on new moms and newborns with residents; circumcisions
10am – see triage patients and laboring patients
6pm – signout to night attending

Typical FMIS day (also a rough estimate) [12h shift]

7am – arrive in hospital, receive signout from night attending
8am – start bedside rounding with resident Team 1
11am – table round with resident Team 2; then see the patients on Team 2 by myself
1pm – see new admits, precept admissions, coordinating discharges
7pm – signout to night attending
Sometimes I work these settings for a whole day or part of a day. I also do a considerable amount of nights. To make my calculations easier, I portioned these settings into "shifts": morning, afternoon, and night. I then calculated hours spent per shift. With data I recorded over 6 months, I created a spreadsheet (that anyone could view if you are really piqued): link here.
Assumptions and notes for my calculation:
"Paper work" – is very difficult to calculate:

It involves literal paper work: signing or reading things faxed to the clinic, signing orders, filling out forms (disability, home health, government/state forms, etc), physical therapy orders, and anything that requires a doctor's input for a patient.
The electronic medical record (EMR) work includes: signing prescription refills, reading consultant notes and messages; reading lab and imaging results, and communicating with patients about these results, etc.
Then there's time needed to finish the clinic visit chart notes themselves.
Moreover, since I am in an academic setting, there are resident clinic notes to be read and cosigned, resident labs and imaging to supervise, and communication with residents about patient care or evaluations.
There needs to be time to schedule and set up shifts, meetings with other doctors, committees, etc.
Lastly, emails take significant time: patient care, academic topics, etc.

Every clinic session is 3.5 hours of patient encounter time, but I add 1.5 hours per shift to include associated charting and "paper work." I come in 1 hour early to do this and spend about an 1 hour after clinic as well. This number incorporates lunch time as well because I am usually working through lunch. In contrast, some physicians go home right after clinic– they choose to do charting and "paper work" after their children go to sleep, around 8-11pm (so I hear… We don't have kids yet).
Precepting residents takes time, but overall less "paper work," so I calculate the hours per session as less.
Admin is pure time (plus half of lunch) + 0.5h for the time I get there earlier or spend afterwards to work on stuff.
MCH and FMIS really don't include anytime outside the hospital because I don't really chart or do patient tasks outside the shift time. I usually finish all charting/paper work while in the hospital before I leave.
Extra hours is a category the most inaccurate. It includes formal hours of teaching of residents and med students, EKG teaching, meetings, workshops, scheduling meetings, academic meetings, CME lectures, etc. I try not to double-account this time with "paper-work" or admin time.
Statistics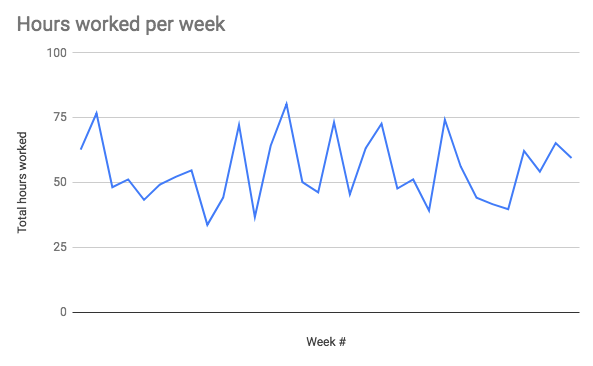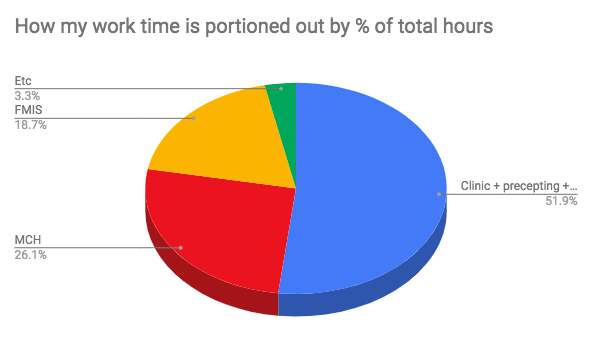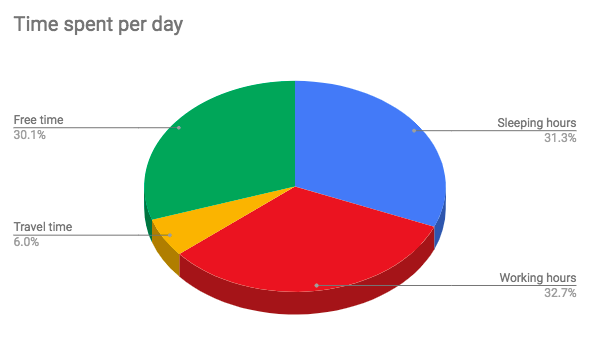 Hours worked:

I averaged 54.9 hours of work per week
I worked a range of 33-80 hours per week

% of total working time breakdown:

I work 51.9% of my time in clinic (which includes seeing patients, admin time, precepting and "paper work")
I work 26% of my time on MCH (labor and delivery, post-partum rounding)
I work 18.7% of my time on FMIS (adult inpatient medicine)

Breakdown from a week perspective (the average over 32 weeks):

3.5 clinic sessions per week
1.5 precepting sessions per week
1 admin session per week (0.92)
1 Saturday 24-h OB shift every 10.7 weeks
1 OB overnight every 2.3 weeks
~3-day or night stretch of FMIS every 4 weeks

Overnights:

I work on average 2 overnights every 3 weeks
I work on average 3 twenty-four-hour shifts every 5 weeks
18.33% of my total working time is working overnight

52% of my OB time is overnight
26% of my FMIS time is overnight
Discussion
I did a quick literature review of studies about physician work hours. The hours worked "average" ranged from 52 to 60 hours per week. A 2011 study in JAMA, using 2004-2005 data of physicians working, set the family physician hours worked in a year as the "average" in which other specialties are compared to: family doctors work 2,524 hours per year total. Comparisons for example: vascular surgeons work 888 more hours; while dermatologists work 346 less hours, relative to family doctors. (If I extrapolated my data and assume I work 48 weeks per year, I would work 2,635 hours per year; which is 111 more hours than the 2011 JAMA article family doctor average).
I think that overall my personal data is likely underestimating how much I work– I was fairly conservative with my estimations. However, it is within a reasonable range compared to the estimates in the studies I read. If I have more time, I would like to see a breakdown of how much doctors work overnight. As not a designated nocturnist, I am guessing I work more nights than most family doctors (18.3% of my total working time is overnight; 52% of my OB time is overnight).
In conclusion, I work marginally more than the average family doctor, but well within the range of average. I can make a similar statement if I compare my hours to other specialties as a whole (all doctors vs. just family doctors). I likely am working nights above the average for family doctors.
Burnout & Well-being
The next step would be comparing my quality of life to others in relation to hours worked. Burnout, well-being, and resilience are topics in full vogue right now (and rightly so). Interestingly, an article summarized a study from The Annals of Family Medicine, showing that the more full-spectrum a family physician works, the less burnout: "comprehensiveness is associated with less burnout, which is critical in the context of improving access to good quality, affordable care while maintaining physician wellness." Here, I quote formally from that study: "practice characteristics significantly associated with lower odds of burnout were practicing inpatient medicine (OR = 0.70; 95% CI, 0.56–0.87; P = .0017) and obstetrics (OR = 0.64; 95% CI, 0.47–0.88; P = .0058)."
Clayton Christensen's book, "How Will You Measure Your Life?" talks about satisfaction in the context of work. There are two types of factors contributing to this: hygiene factors and motivation factors. "Hygiene factors" if not done right, will causes us to be dissatisfied: poor status, compensation, job security, work conditions, company policies, supervisory practices make workers unhappy. However, even if hygiene factors are improved, you won't automatically love your job; you just won't hate it anymore. Christensen recalls Frederick Herzberg's research and names "motivators" as another factor for job satisfaction. Motivation factors include: challenging work, recognition, responsibility, personal growth– very inward qualities. Problems arise when you prioritize hygiene factors over personal motivators (ie. "I'll work a high-paying job and then when I pay off my loans, will work to save the world!"). Deferring real passions can lead to burnout.
I don't have the data, but qualitatively I am pretty sure I am pretty happy so far. :D Paper work is a drag, but I seldom feel like I am not doing what I am called to do in this life. My favorite weeks (and even days) are when I get to see patients in all different settings and teach residents at the same time. A particularly memorable day, mixed the joy of delivering two babies in the morning, with the privilege of being with the family of a personal patient of mine passing away in the ICU, and the excitement of precepting residents in clinic in the afternoon (including doing some procedures); all ending with a quick lecture. It was hard, but I can't imagine doing anything else!
§§§